With the increase of social media usage, it has become vitally important for tutoring businesses and college learning centers to listen to what students/parents are saying about their products/services online. Administrators can use Facebook, Twitter, Instagram, etc. to gain many insights into what people are saying about their departments. These social platforms are user-friendly, and make it easy to search for specific keywords and phrases.
Listening may seem like a foreign concept, but is easier than one might expect. The first step is to identify the conversations that students and parents are already having. In other words, what are students talking about online? What keywords are your students using in their tweets?  More often than not, conducting a Twitter keyword search will result in a feed filled with your student's tweets. This data provides administrators with an opportunity to engage students or parents in a positive manner that could result in a better student experience.
Hopefully, you are starting to grasp the importance of listening and are ready to take your social media commitment to the next level. First, identify which platform is the easiest place to listen. Twitter may be the best place to start because the platform provides a robust search engine to all of its users. This search functionality is the primary reason Twitter has become my go-to listing tool, but Instagram is proving to be quite useful as well.
Within Twitter's basic search functionality, you can parcel out items by ZIP Code's geographic region or specific keywords. These search options make it easy to organize a Twitter feed, making it easier to create Twitter lists. Twitter users can create lists to categorize people based on specific criteria, making it easy to listen to that specific group of people. For example, tutoring businesses should create a Twitter list for all of their Twitter using parents. Populating the parent tweets in one specific feed makes it extremely easy to listen to what the parents are saying. Twitter lists take out a lot of the white noise that is typically found in the primary Twitter feed.
Businesses and learning centers will often find themselves managing several social platforms, and it is easy to become overwhelmed.  HootSuite is a great tool for managing multiple social media profiles, and makes it easier to stay organized. HootSuite offers a free membership option, but the paid version is relatively inexpensive. Look into this platform, and let me know what you think. I'd love to get your feedback.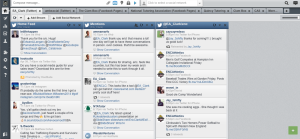 Before listening can occur, a list of keywords should be developed.  Listening to a generic Twitter stream is not efficient, which could result in a lot wasted time.  For example, if you are a tutoring company that works with students on SAT prep, you are going to want to search for parents talking about SAT prep. If you are a college learning center, you may want to start by searching the college's name within a 2 mile radius.
My CV is quite diverse, and I am often searching for keywords that fit into several unique categories.  Here are a few example of the key terms that I search for:
Math
Math sucks
Tutor
Quincy Tutoring
Eastern Nazarene College
Eastern Nazarene
School
Homework
Other competitors
What keywords should you be searching for? Why did you choose these words?
Not all the keywords listed above will be applicable to your tutoring business or learning center, but they should provide a good foundation to build on.  Start picking random terms and assessing their pertinence.  If the search results are applicable to your context, be sure to add the term to your master list. If the term doest yield positive results, tuck it away and search again in a day or two before you trash it completely.
It doesn't matter if you run a private tutoring business or a college learning center, listening online will have a positive impact on your business.  I can speak to both sides of the conversation because I own a small tutoring business and run a college learning center. Twitter has been effective in both arenas in helping me to build meaningful relationships with my students.
Key Action Items:  Complete these four bullet points, and click through my presentation slides from the National Tutoring Association conference.
Create a Twitter profile
Follow at least 10 people in your field
Identify your customer(student) personas(profile)
Make a list of keywords that you will search on a regular basis