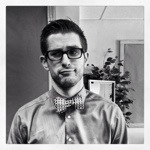 Disclaimer
I am writing this post on my iPhone, and I'm doing so with the help Siri and the WordPress app. Yes, I am one of those people who has a difficult time transferring my thoughts down on paper, I'm ok with that. Hopefully what you are about to read makes sense!
The goal
The goal of this post is to solicit the help of my PLN, and identify a few accountability partners that will call me out if I start slacking on my content creation. There is a lot that I have to say, and I keep getting in my own way. Accountability is crucial, can you help?
Finding my voice
My blogging effort has been sporadic, and I've been plagued with serious bouts of procrastination. Procrastination sucks, and I should probably be a little bit more sympathetic to my students. My procrastination stems from fear, a fear of not understanding my own voice. Last year I started defining my voice, and I'm happy with the progress that I've made. Going forward, I will be writing about education, student affairs, social media, business and leadership. It may seem like the subject areas lack continuity, but there is a lot of overlap that is worth exploring.
How you can help
If you don't see me posting new content every few days, please yell at me here! There is nothing like public shaming to get the wheels turning. You can also message me via the contact form if you would like to take a more discrete approach.
Getting real
I owe it to you, and it's time for you to meet the real me. There is something powerful about authentic stories, and I hope you follow along to hear some of mine.
In the spirit of being real, I invite you to be real with me. Challenge me, question me, I look forward to learning from you!
Be well friends!
EC