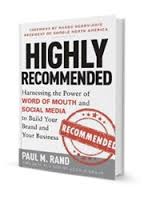 The McGraw Hill Business division was kind enough to send me a copy of Paul Rand's book "Highly Recommended", and I'm glad I took the time to read it. Highly Recommended lived up to its namesake, and I'm happy to recommend this book to anyone interested in growing their business via word of mouth. Although this text contained that appears to be common sense, the case studies and enormous piles of data found on each page made it difficult to put this book down.
While most of the ideas highlighted in the book appear to be common sense, Rand provides a vehicle, through which, marketers can become more efficient in their approach to marketing. It might be easy to assume that this book was written for people in the business world, but I wouldn't be foolish limit the book's reach to a singular audience. As a higher education professional, I found this book to provide fascinating parallels between the business world and the world of higher ed. Although drawing parallels to all of the key points might be a stretch, there are at least three ideas worth noting.
While it is nearly impossible to summarize the entire book in 700 words, hopefully my three takeaways encourage you to pick up a copy of the text.
Part 1 – Word of Mouth Recommendations: Marketing's Holy Grail
The in your face, blast the consumer with obnoxious advertisements no longer packs the same punch. Examining the concept of recommendations through the higher education lens, I can provide countless anecdotes that can be used validate this claim. This phenomenon is not isolated to the admissions department or the development team. I have experience student censorship regularly when trying to communicate important information via email through my role as the Director of the Center for Academic Success (CAS). Yes, my emails are important, but far too often they get ignored and pushed to the side.
The CAS provides tutoring, disabilities services, and a host of other services. Most people would assume that our services would be highly utilized without the help of promotion. Sadly this is not the case, and there are several reasons as to why this occurs. One way we can increase the usage of our services is by establishing strong relationships with our students. Strong relationships typically yield trust, and trust is a key component to the word of mouth referral system. A student will be hard pressed to refer a friend if they don't find value in the services offered. This holds true with companies across the entire business spectrum. Businesses that have not established strong relationships with their customers will not be awarded strong word of mouth brand evangelism. Often, these relationships can start online using social platforms like Facebook and Twitter.
Part 2 – The Road Map to Recommendations
One of the first steps on the road to recommendations is to understand who the competitors are. My competitor in the context of higher education takes on a different form. In this context, I am competing for the student's time, something that is priceless. Once we identify how the students spend their time, we can engage them in conversations about things they enjoy doing. Ideally, these conversations will cause the students to engage more time with the CAS and allow them to realize that the department does offer great value and is concerned about their success. Understanding how students spend their time also helps my department identify potential partnerships. If the students are spending a large portion of their time in the residential halls, it would make sense to partner with residential life and bring a variation of our tutoring services to the residents. We can better serve our commuter population as well, and assess the need for virtual tutoring assistance.
Part 3 – Beyond Marketing: Operationalizing Recommendations
Recommendations will not occur when a product or service does not have any value to the consumer. In short, the product or service will not be recommended if the quality is sub-par. Common sense, right? The peer educators employed through the CAS are required to participate in an ongoing training experience, but this spring the students are also going to facilitate their own professional development. Each student will enroll in the Massive Open Online Course, Student Thinking at the Core, and meet regularly to discuss the material covered in class. The primary goal for this exercise is to equip each student with the necessary skills to create their own professional development experience. In turn, each student will become better at serving our students eliciting more recommendations.
Conclusion
Recommendations must be earned, and they are rarely given freely. Pick up a copy of "High Recommended" and investigate how you can apply the core concepts to your business. Please don't forget the following takeaways, they provide a great foundation for you to start building.
Build strong relationships

Understand who your competitors are

Be good at what you do
Let me know what you think, I'm looking forward to your feedback!